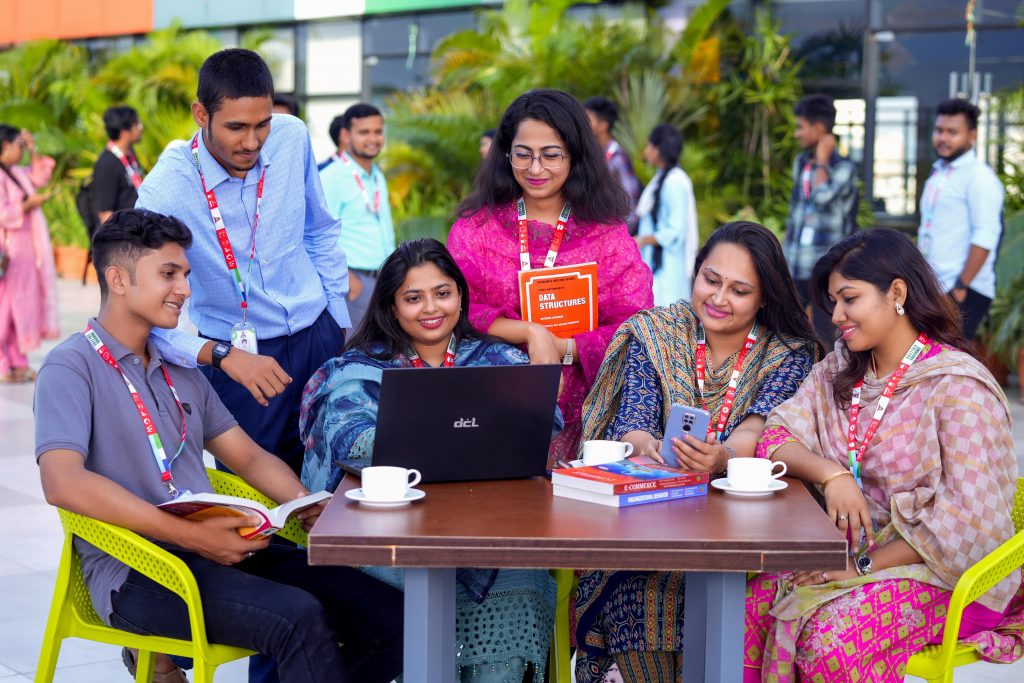 Bachelor of Business Administration (BBA): Management Degree Overview
Essential Information:
Business managers lead groups of people to a common, profitable goal by overseeing projects, practices and personnel within an organization. Designed to equip students to take these responsibilities, a 4-year Bachelor of Business Administration degree program with a management focus develops students' personal leadership skills and enhances their understanding of business ethics and practices. An internship is often a culmination of the program, preparing students for real-world business environments. Some programs are offered at least partially online. A high school diploma or the GED equivalent is usually the only requirement for acceptance into this degree program.
With a BBA in management and some business experience, graduates can be ready to seek out management roles in various industries. Some career titles could include:
Operations manager
Human resources manager
Project planner
Objectives & Outcomes:
• Provides the highest quality education so that students can cope with both undergraduate and graduate program.
• Provides state-of-the-art education.
• Use analytical and reflective thinking techniques to identify and analyze problems, develop viable alternatives, and make effective decisions.
• Ensure career development in the field of computer systems engineering or software systems engineering.
• Students will be trained in such a way so that they can work as a team member or can be able to lead a team effectively.
• Students will learn the development of innovative systems and solutions using their talent and intelligence.
Program Curriculum :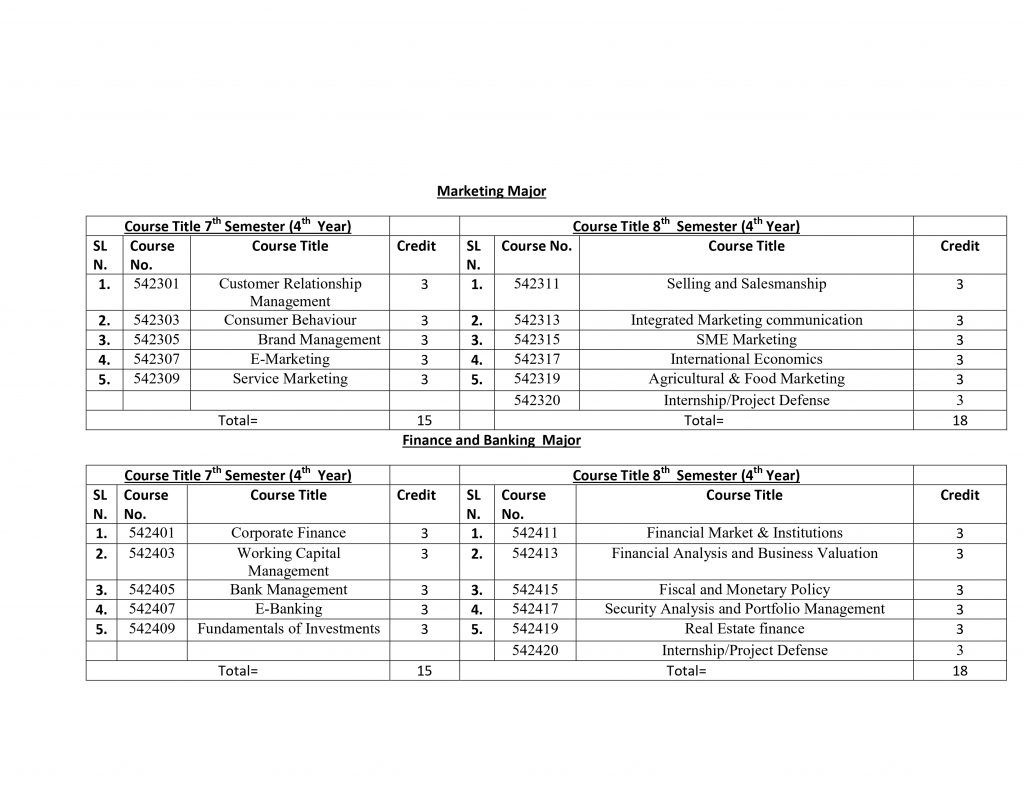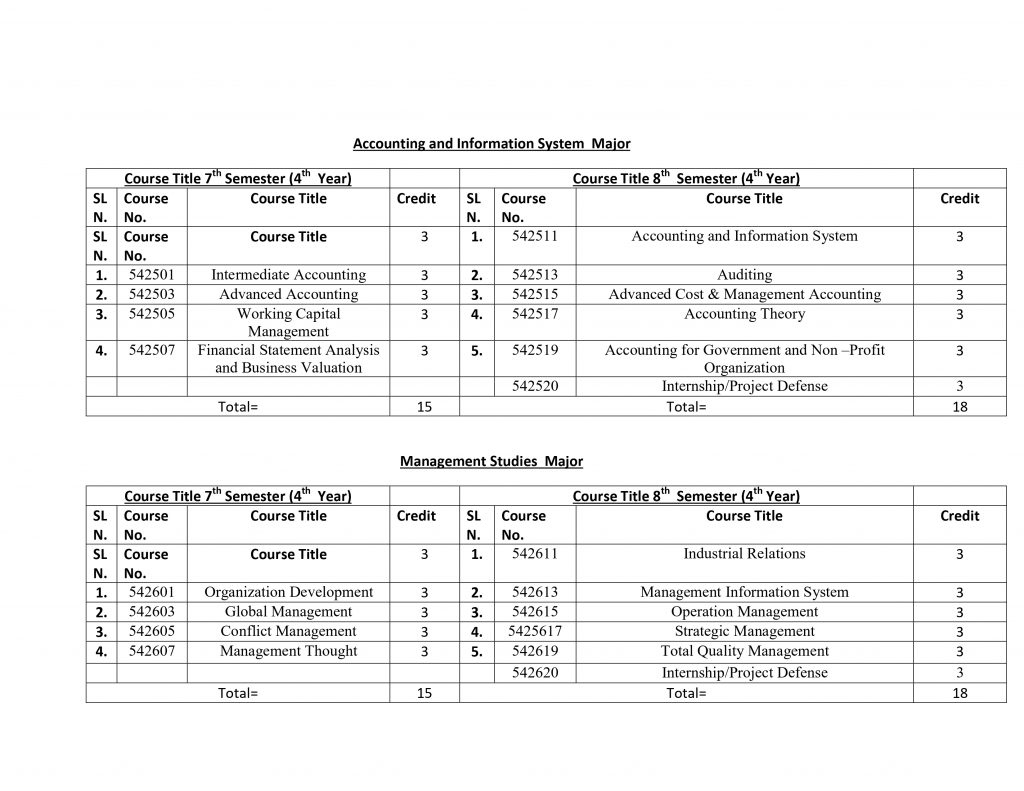 BBA (Professional)
According to new syllabus Effective from Session: 2017-18
Course Title 1st Semester (1st Year)
Course Title 2nd Semester (1st Year)
SL N.
Course No.
Course Title
Credit
SL N.
Course No.
Course Title
Credit
1.
510101
Introduction to Business
3
1.
510109
Principles of Management
3
2.
510103
Business Commutation & Report writing
3
2.
510111
Taxation in Bangladesh
3
3.
510105
Basic Accounting
3
3.
510113
Computer & Information Technology
3
4.
510107
Business Mathematics
3
4.
510115
Theory and Practice of Banking
3
5.
211501
History of the emergence of Independent Bangladesh (in Bangla)
3
5.
510117
Micro Economics
3
Total=
15
Total=
15
Course Title 3rd Semester (2nd Year)
Course Title 4th Semester (2nd Year)
SL N.
Course No.
Course Title
Credit
SL N.
Course No.
Course Title
Credit
1.
510119
Business Statistics-I
3
1.
510129
Risk Management & Insurance
3
2.
510121
Organizational Behavior
3
2.
510131
Business Statistics-II
3
3.
510123
Legal Environment of Business
3
3.
510133
Human Resource Management
3
4.
510125
E-Commerce
3
4.
510135
Export-Import Management
3
5.
510127
Macro Economics
3
5.
510137
Supply Chain Management
3
Total=
15
Total=
15
Course Title 3rd Semester (2nd Year)
Course Title 4th Semester (2nd Year)
SL N.
Course No.
Course Title
Credit
SL N.
Course No.
Course Title
Credit
1.
510119
Business Statistics-I
3
1.
510109
Principles of Management
3
2.
510121
Organizational Behavior
3
2.
510111
Taxation in Bangladesh
3
3.
510123
Legal Environment of Business
3
3.
510113
Computer & Information Technology
3
4.
510125
E-Commerce
3
4.
510115
Theory and Practice of Banking
3
5.
510127
Macro Economics
3
5.
510117
Micro Economics
3
Total=
15
Total=
15
Course Title 5th Semester (3rd Year)
Course Title 6th Semester (3rd Year)
SL N.
Course No.
Course Title
Credit
SL N.
Course No.
Course Title
Credit
1.
510139
Principle of Finance
3
1.
510129
Risk Management & Insurance
3
2.
510141
Principle of Marketing
3
2.
510131
Business Statistics-II
3
3.
510143
Cost Accounting
3
3.
510133
Human Resource Management
3
4.
510145
Tourism & Hospital Management
3
4.
510135
Export-Import Management
3
5.
510147
Entrepreneurship & Small Business Management
3
5.
510137
Supply Chain Management
3
Total=
15
Total=
15
Marketing Major
Course Title 7th Semester (4th Year)
Course Title 8th Semester (4th Year)
SL N.
Course No.
Course Title
Credit
SL N.
Course No.
Course Title
Credit
1.
542301
Customer Relationship Management
3
1.
542311
Selling and Salesmanship
3
2.
542303
Consumer Behaviour
3
2.
542313
Integrated Marketing communication
3
3.
542305
Brand Management
3
3.
542315
SME Marketing
3
4.
542307
E-Marketing
3
4.
542317
International Economics
3
5.
542309
Service Marketing
3
5.
542319
Agricultural & Food Marketing
3
542320
Internship/Project Defense
3
Total=
15
Total=
18
Finance and Banking Major
Course Title 7th Semester (4th Year)
Course Title 8th Semester (4th Year)
SL N.
Course No.
Course Title
Credit
SL N.
Course No.
Course Title
Credit
1.
542401
Corporate Finance
3
1.
542411
Financial Market & Institutions
3
2.
542403
Working Capital Management
3
2.
542413
Financial Analysis and Business Valuation
3
3.
542405
Bank Management
3
3.
542415
Fiscal and Monetary Policy
3
4.
542407
E-Banking
3
4.
542417
Security Analysis and Portfolio Management
3
5.
542409
Fundamentals of Investments
3
5.
542419
Real Estate finance
3
542420
Internship/Project Defense
3
Total=
15
Total=
18
Accounting and Information System Major
Course Title 7th Semester (4th Year)
Course Title 8th Semester (4th Year)
SL N.
Course No.
Course Title
Credit
SL N.
Course No.
Course Title
Credit
SL N.
Course No.
Course Title
3
1.
542511
Accounting and Information System
3
1.
542501
Intermediate Accounting
3
2.
542513
Auditing
3
2.
542503
Advanced Accounting
3
3.
542515
Advanced Cost & Management Accounting
3
3.
542505
Working Capital Management
3
4.
542517
Accounting Theory
3
4.
542507
Financial Statement Analysis and Business Valuation
3
5.
542519
Accounting for Government and Non –Profit Organization
3
542520
Internship/Project Defense
3
Total=
15
Total=
18
Management Studies Major
Course Title 7th Semester (4th Year)
Course Title 8th Semester (4th Year)
SL N.
Course No.
Course Title
Credit
SL N.
Course No.
Course Title
Credit
SL N.
Course No.
Course Title
3
1.
542611
Industrial Relations
3
1.
542601
Organization Development
3
2.
542613
Management Information System
3
2.
542603
Global Management
3
3.
542615
Operation Management
3
3.
542605
Conflict Management
3
4.
5425617
Strategic Management
3
4.
542607
Management Thought
3
5.
542619
Total Quality Management
3
542620
Internship/Project Defense
3
Total=
15
Total=
18