Free Courses for Skill Development
Recent Notice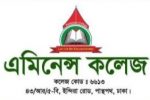 Courses for Eminence College Students with 100% Scholarship
Academic Education doesn't assure employment but skill does that's why Eminence College always focusing on the skill development of students.
What  Students say about Eminence?

Jubayer Hossain
Student, BBA
Eminence College has been a vibrant and enriching experience. From the great professors I have had, amazing support from the academic department I have received, great learning experience and the wonderful friends I have made.

Sumaiya Akter
Student, CSE
Eminence College is the best College with full of knowledge, cultural activities, and sports. All teachers are very helpful and co-operative. As a student, I assure you that it is the best college where u can find value, culture, and innovation.

Shakil Ahmed
Student, HSC
My four years at Eminence College were great and a memory to cherish for lifetime. It was full of learning and grooming oneself. It gave me an opportunity to meet different kind of people and learned many things.

Shimul Ahmed
Student, BBA
The Education Department at Eminence College is really one of a kind. The professors are so sweet, well versed in their field, and willing to help you with anything you can think of. Business Research classes are always the ones that I enjoy the most and have the most fun in.